The Launching of Roaming Man First Official Store in South East Asia!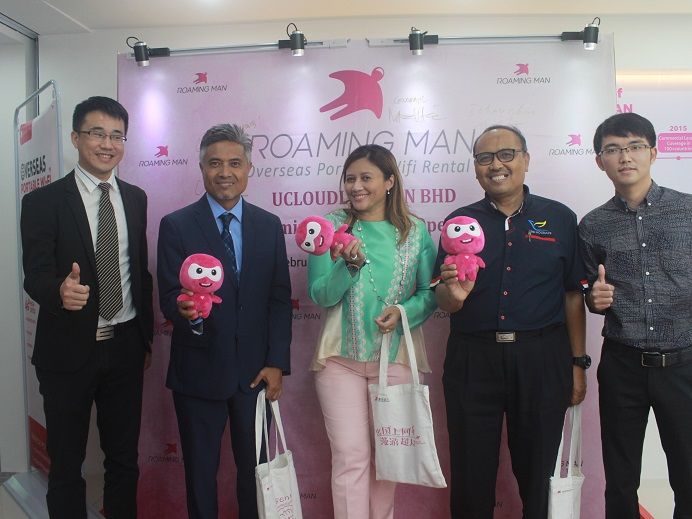 Roaming Man has launched our FIRST official store in South East Asia, on 6th from 3pm to 5pm whereby the Vice General Manager of China Market, Roaming Man; Mr. Chen You Xing together with Malaysia Airports Holdings -Senior General Manager of Commercial Services, Berhad; Mohammad Nazli Abdul Aziz and General Manager Commercial Business, Hani Ezra Hussin are joining the ribbon cutting ceremony commemorating the store launch. This also marks the official operation of Roaming Man klia2 Store which is located at the klia2 Departure Hall, Level 3, Public Concourse Area (Near check in counter Z).
Supported with the CloudSIM technology, Roaming Man is the business unit under UCLOUDLINK which provides a Wifi rental service via our own manufactured portable pocket Wifi device. UCLOUDLINK is originally established in Hong Kong back in 2009, with majority of the staff holding R&D backgrounds, based in Shenzhen, China. The company is founded by a team of professional engineers and specialists from the telecommunication industry with a vision of building connections and sharing without limitation. The vision has now been realized by the implementation of our own patented CloudSIM Technology into a range of hardware & software solutions.

The CloudSIM technology is protected by over 20 international patents such as SERVICE SHARING SYSTEM AND APPARATUS and MULTI-CHANNEL COMMUNICATION TERMINAL which was obtained in 2015 in Europe and US respectively. Now, the Roaming Man Wifi rental service is available through our respective channels in SouthEastAsia region in Malaysia, Singapore & Indonesia.
The objective of Roaming Man is to bring the utmost convenience to the outbound traveler for a concept of paying global data coverage at "local" affordable fees. Apart from owning the device, the traveler simply pays for the data package for each respective country they visit.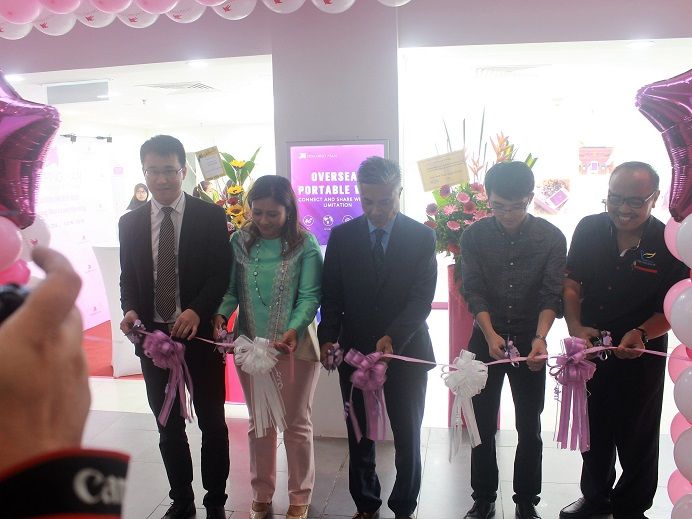 In the past, most of travelling customers would opt for subscribing international roaming data, purchasing local sim cards or search for free wifi at the hotel. However, all these methods are either too costly, have insecure data integrity or too complicated for internet usage by phone. Through using the Roaming Man portable pocket wifi rental service, travelers need not fuss over the phone batteries dying due to prolonged usage as the data connection will run separately on the Roaming Man device instead of the phone. The traveler simply connects their phone to the Roaming Man device hotspot and roam freely as they wish. Also, they may share the hotspot connection up to 5 devices (phone, tablet or laptop).
Although not the FIRST to introduce portable pocket wifi rental service in Malaysia like some of our competitors, we differentiate ourselves through the INNOVATIVE service which is provided by Roaming Man to the users. Most of our competitors use an activated SIM card on the device, but using the SIM FREE CloudSIM technology, it allows for the Roaming Man device to connect to the fastest internet coverage in the specific area instead of connecting to any single Telco network. In addition, our battery life will last for 12 hours with a 4G High-Speed internet connection provided to the users. Also, as a device manufacturer, we do have much control in terms of the device traceability and online security connection too.
Now, it's a great news to the traveler which is flying from the klia2 Airport as they will be able to pick up & return Roaming Man Portable Wifi device from either the klia or klia2 Airport respectively. Besides of accepting walk in orders, the traveler could make online booking also via our official website at www.roamingman.my for hassle free pre-arrangements and free 2 days of wifi promotion.
For more information, please visits
https://www.ucloudlink.com/html/News-Events/