Let us tell you why booking for pocket wifi rental is definitely a smarter choice compared to local telco data roaming plan despite of their current promotion and hassle of getting a foreign SIM card.
Some of the postpaid subscribers always trying to debate with us that their current postpaid plan comes with the competitive data roaming bundling plan -roam like home, 1family roam, roam pass. In fact, it really depends on the traveler self-preference for overseas internet data. Therefore, we come up with a table comparison between local telco providers, SIM card and Roaming Man Pocket Wifi Rental for the Malaysian traveler to understand more about the pro and cons for each of internet access options.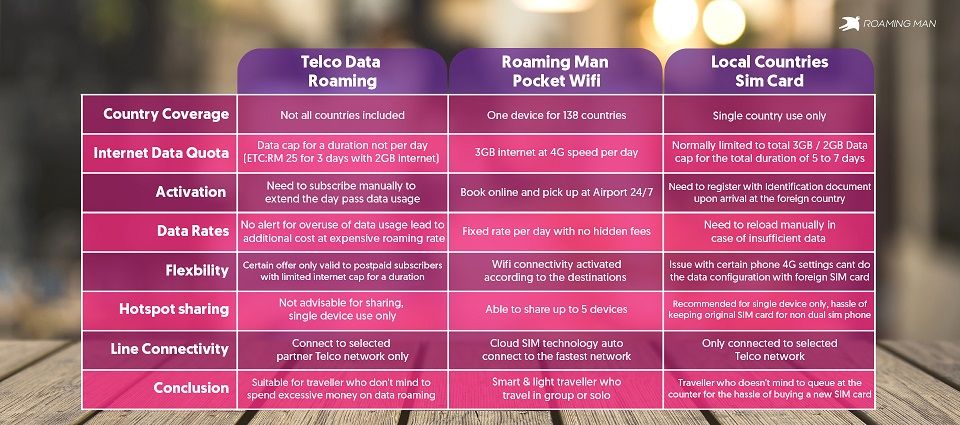 In conclusion, if you are a person who prefer to have more data quota at the ease of getting everything well prepared prior of your trip, Roaming Man Pocket would be a better choice so that you doesn't have to subscribe the roam pass manually with a limited data cap throughout the trip. In addition, our wifi hotspot is highly recommended for sharing purposes, which helps you to save a lot indeed on your travelling budget.
Also, we have our wifi rental premium package which is serving with higher data cap of daily 3GB at 4G speed.
Find out more at https://www.roamingman.my/north-east-asia-premium-pocket-wifi-rental-240/