Written by Sandy Ong
About Roaming Man 4G Wifi Rental
ROAMING MAN is an international pocket wifi rental brand. A leading pocket wifi rental service provider company in Malaysia. In Malaysia, the main wifi rental services include overseas wifi cover 140 countries and Malaysia's local broadband internet cover nationwide. One of the reasons that made Roaming Man outstanding in the market because it has its own manufacturer wifi modem in China to support the supply line, and the CloudSim technology allows customers to roam with multiple local telco's signals.
Mission and Vision
ROAMING MAN's mission is simply to increase your freedom and effectiveness to stay connected with 4G wifi globally in more than 140 countries and regions including Asia, South East Asia, North East Asia, Oceania, US & Europe countries while traveling.
Our Products: Roaming Man Portable Wifi Devices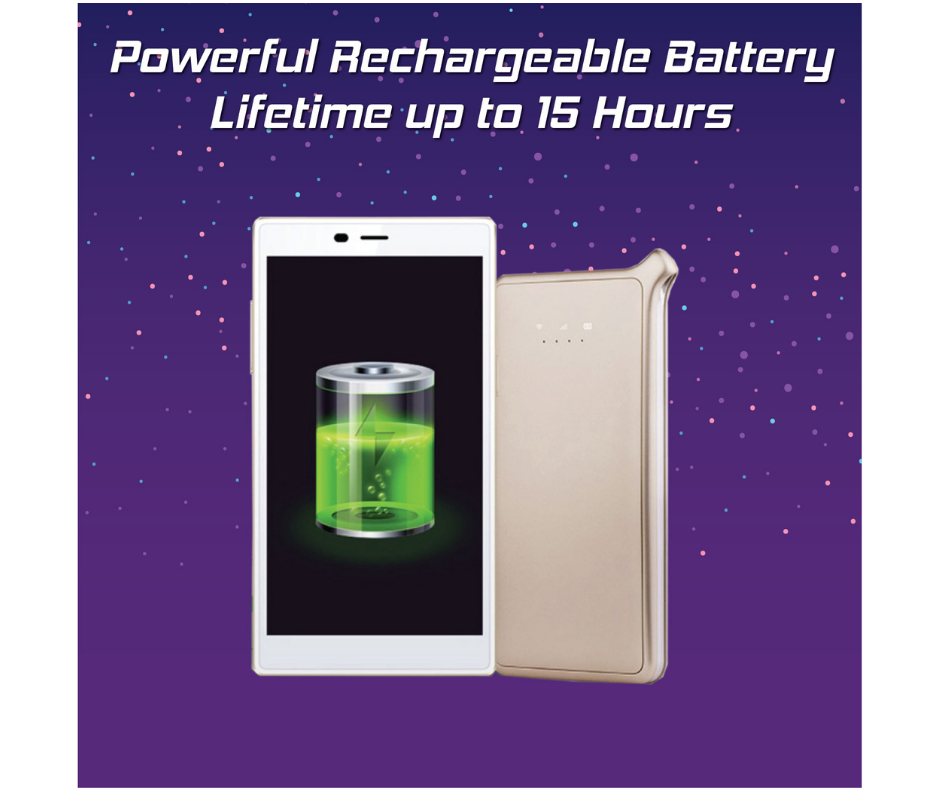 U2 device and G4 device is totally different from the device outlook and functions. U2 device is a portable wifi device with an ON/OFF button and signal light; G4 device is a smart device with touchscreen and multimedia functions includes data usage, Google map, language translator, trip advisor, and info banner.
U2 device is not for sale, it is used for rental packages only; G4 device is for sales at RM399 only. However, we rent it for free and only charge data fees from customers, but we encourage customers to own a device for overseas or local use especially to our regular customers. The reason is customers will enjoy a lower rate up to 10% for all wifi packages.
If you think you don't need a G4 device and U2 is good enough for you. No worry, we have the latest packages Rent & Own, a local broadband package that you can own a U2S device after 3 months or 6 months rental.
3 Minutes Instant Booking
Roaming Man products and mobile internet data plan packages are available at Roaming Man official website www.roamingman.my, Lazada and Shopee stores.
This article will guide you on how to place an order on Roaming Man website. Let's start!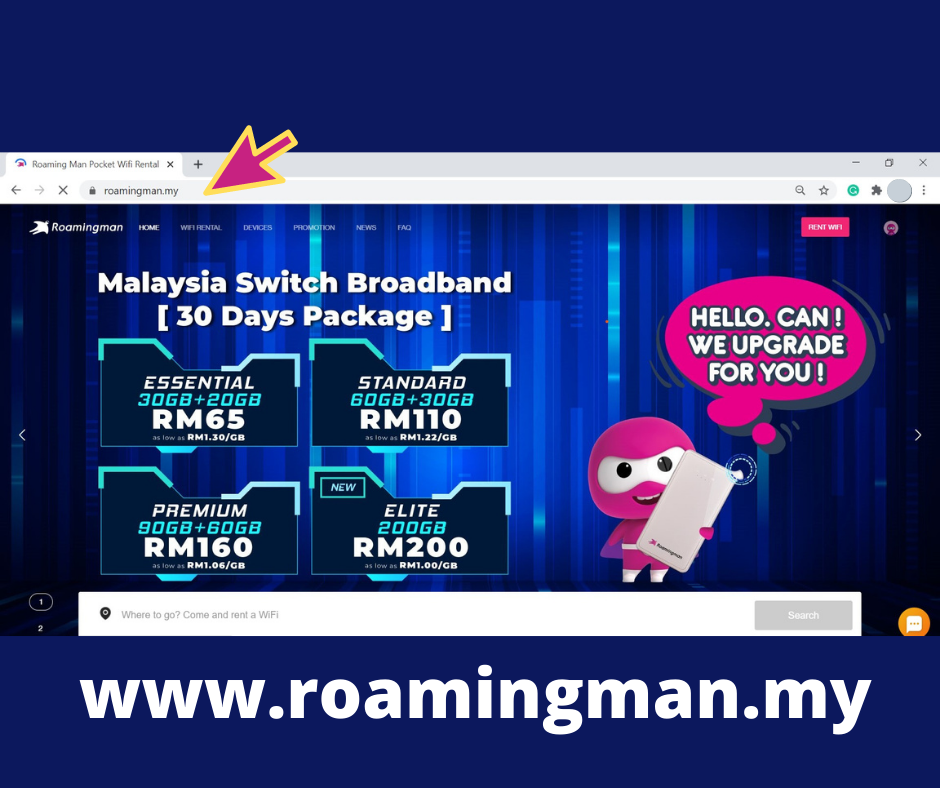 Step 2: Register an account if you are a new customer.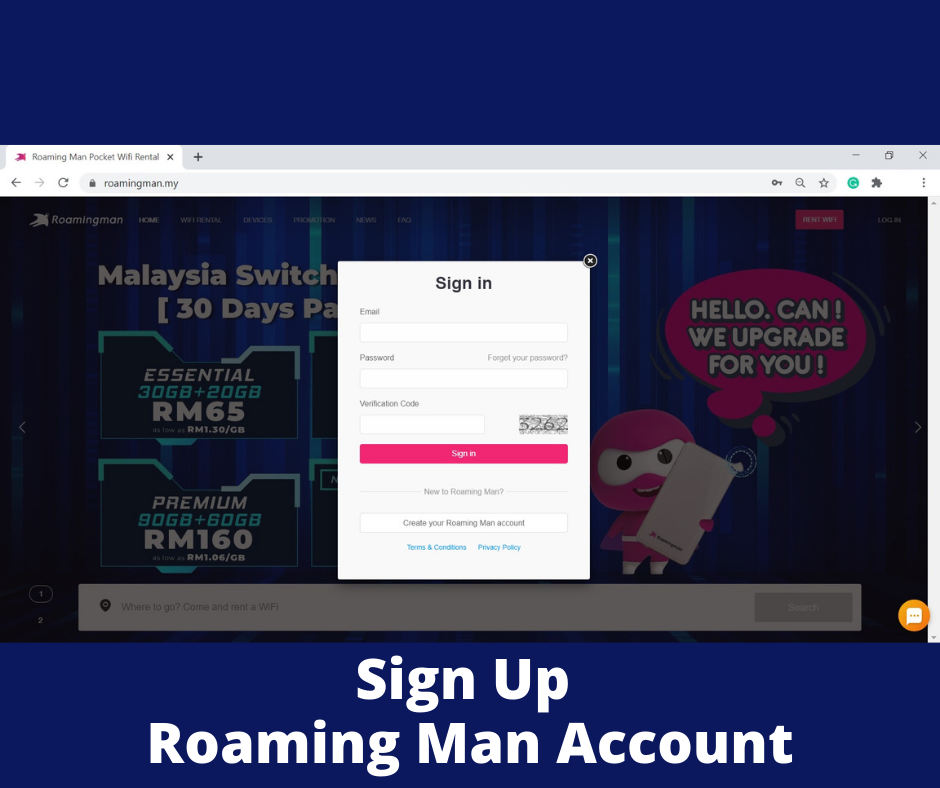 This is important because you will collect and earn RoamingPoint from every purchase and use is for a deduction for your next purchase.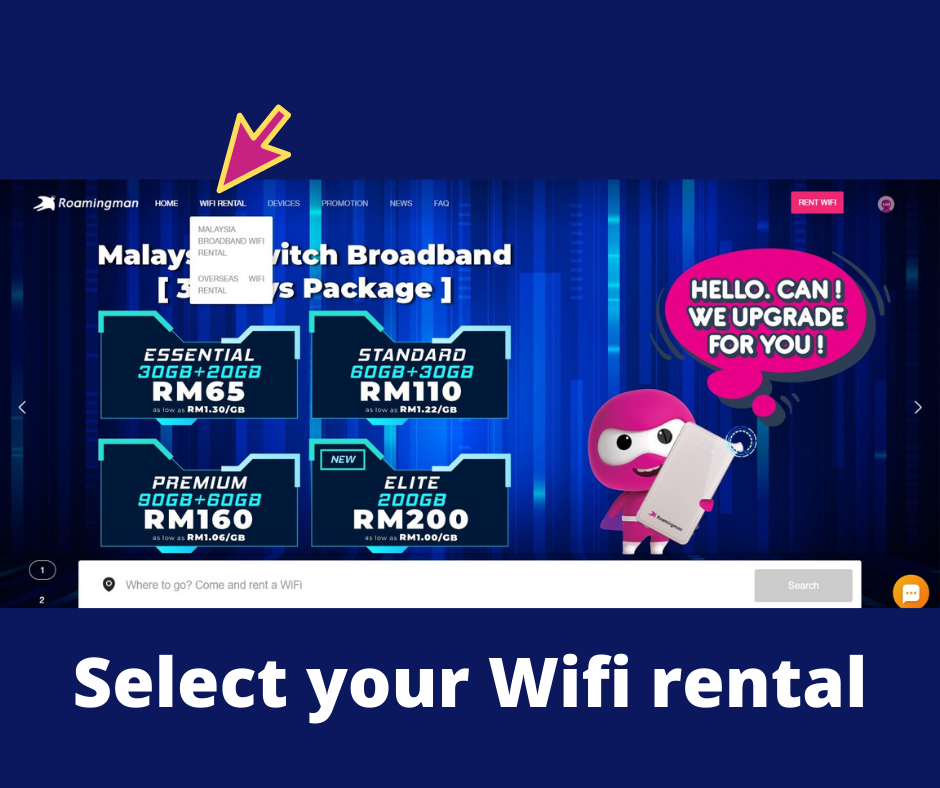 Step 4: Select the Malaysia Broadband packages that you want to purchase and click "Rent Now"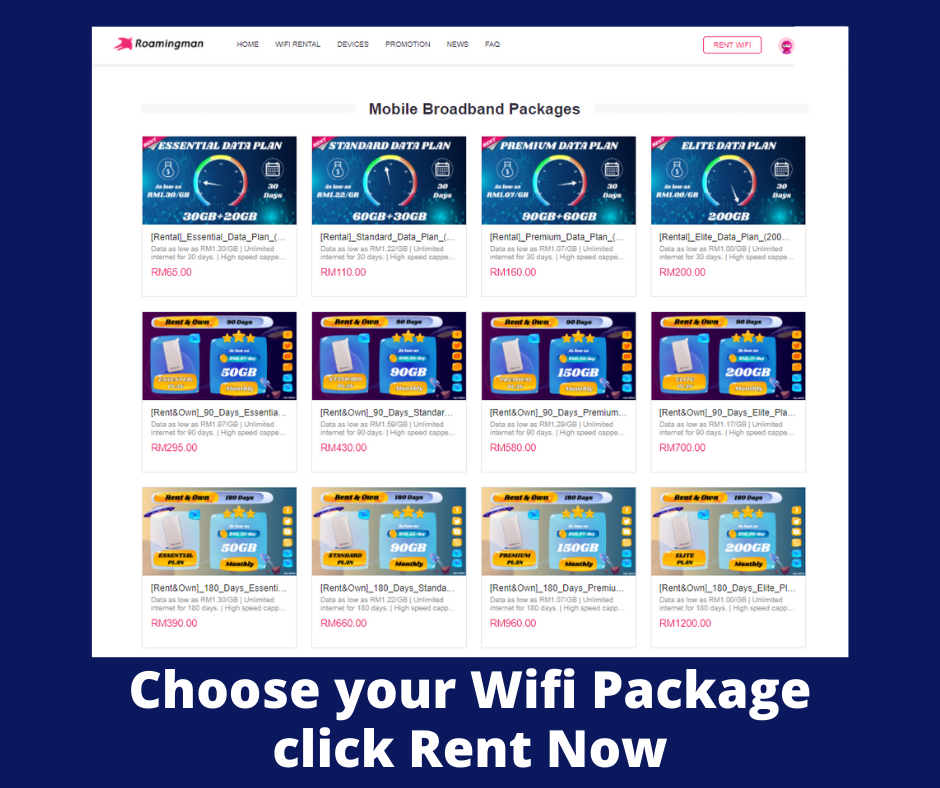 Step 5: You are directed to the renting page now, select your rental information correctly.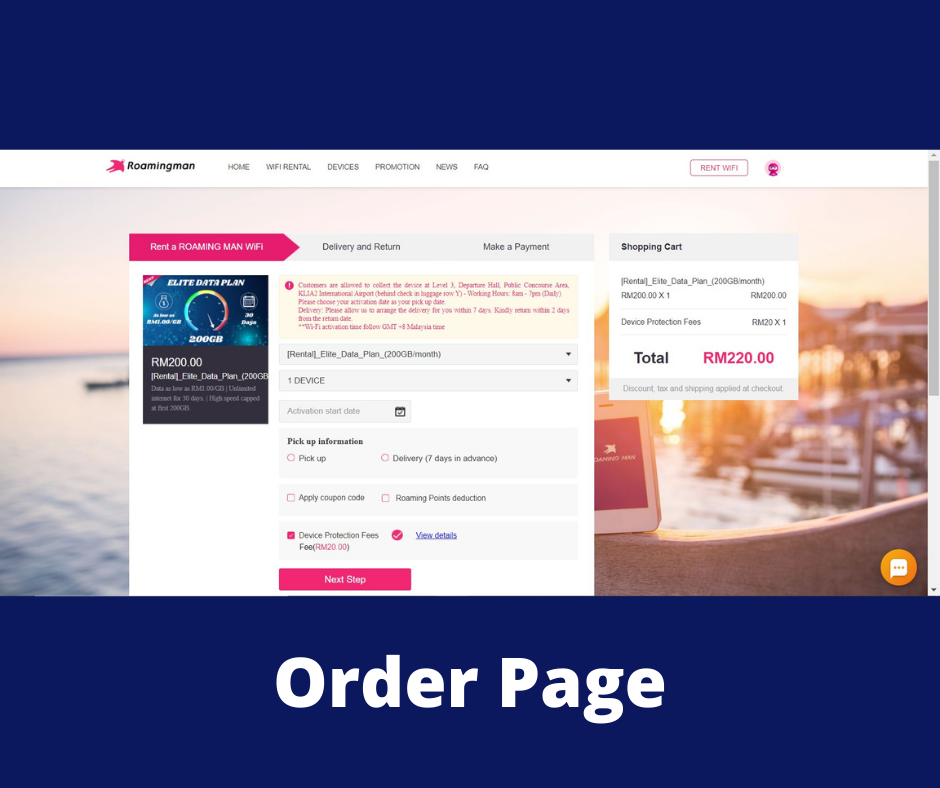 You may change the packages here at the first row, next is the number of devices, 3rd row is the activation date (We encourage customers to book early at least 7 days in advance before activation date due to unpredictable delay on the courier service). Continue with the pick up information, you may select pick up if you are able to visit our office at Q Sentral, if not delivery is more convenient for you. ***delivery charges is TWO WAY Delivery*** Next, apply promo code or roaming points deduction, one transaction allows either one deduction only. The last row is protection fees.
Step 6: Fill in your delivery information if you choose courier service.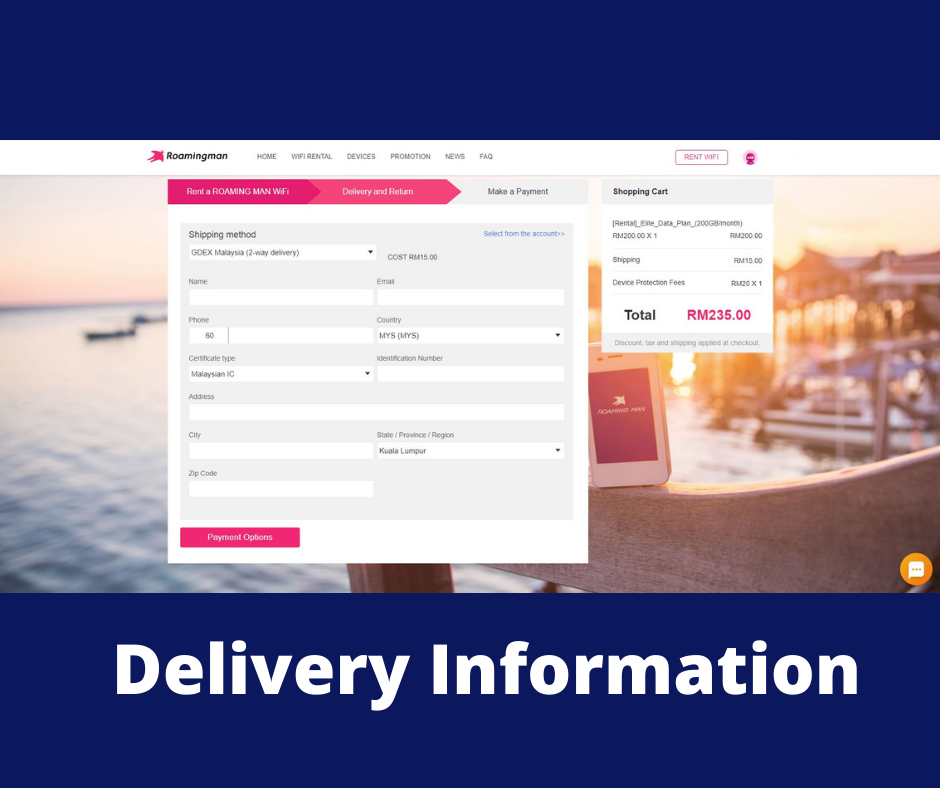 Step 7: Click "Place Order" to proceed to the payment page.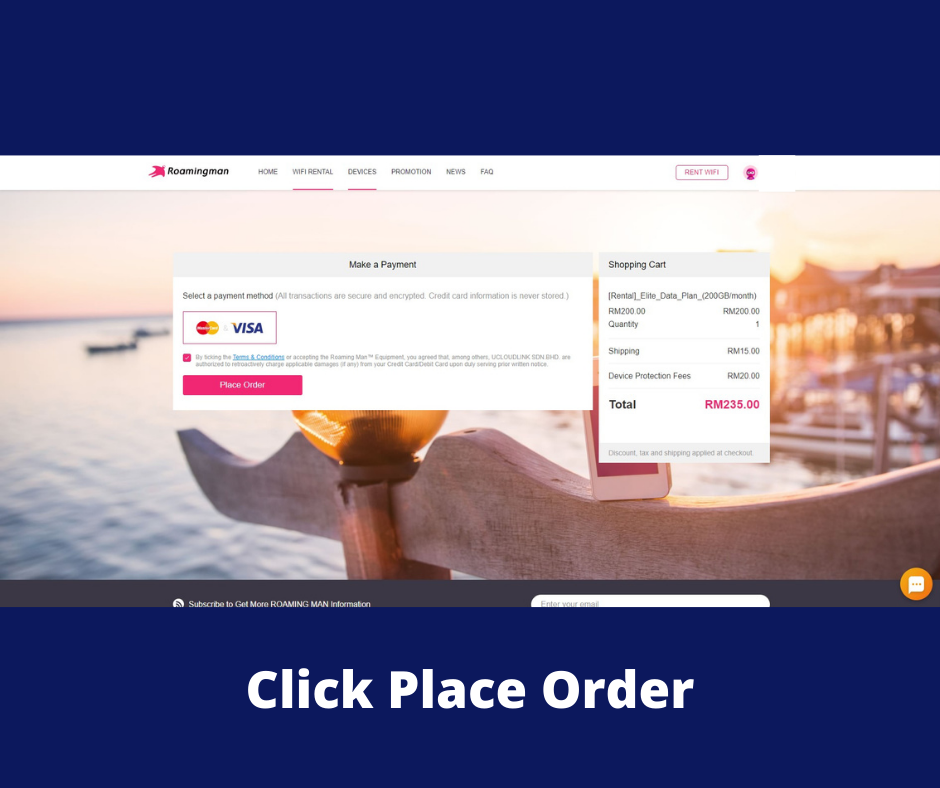 Step 8: Now you are on the payment page.
Insert your card details and wait for the parcel!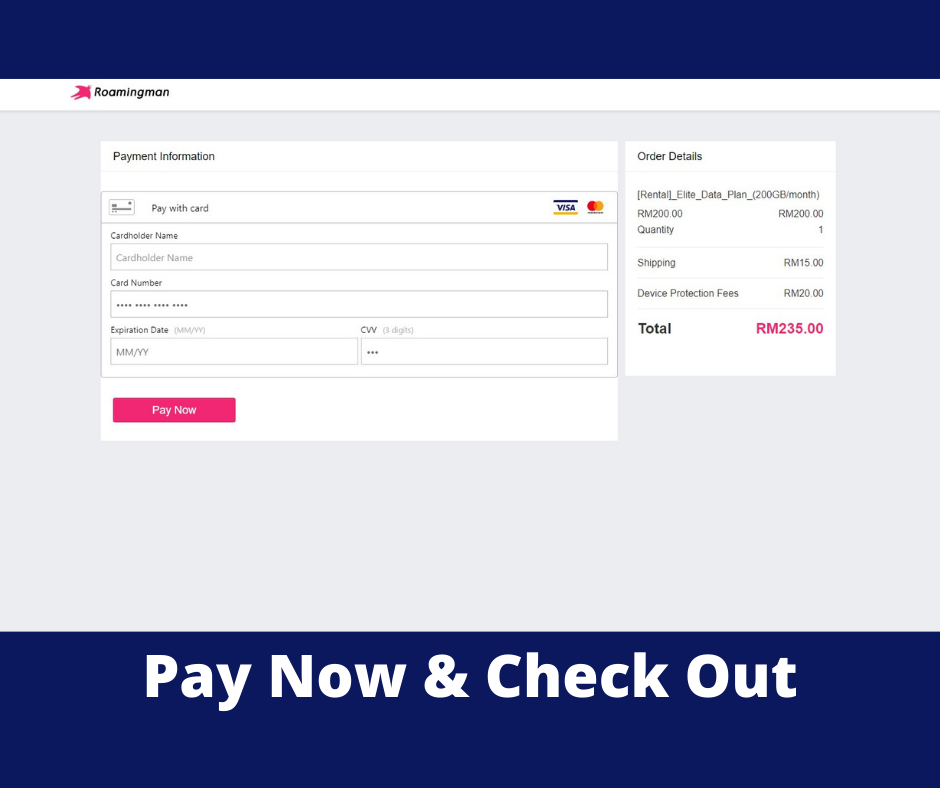 Click here to watch video guide